Checkout These attractive and eye-catching indoor plants hangers and holder
A true plant lover is never done with his plant collection, it's just like wishing for more and more.
Now, let's check, why the best indoor plant hangers and holders' are so in trend.No matter how much space you have, you still want to add a few more plants in your collection. At least that is the case with me I don't have a very big house, but do manage a good terrace and indoor garden.
But still, I want a few more plant species to be indulged in my home decor. Definitely what else can be a better option to decor your home then an oxygen bank, that not only brings freshness positivity, warmth but also lots of life and beauty.
If you are finished with the floor space, what should you do to enhance your indoor garden? In my case, I actually looked up and got beautiful results with my indoor plant hanger plants and holders.
Yes, hanging plants are a beautiful way to decor your home and yet occupy any space to cause congestion. It's easy to take care of the plants as well, moreover, don't worry about the hanging options of plants there are several plant options. You just need to spot the right area where your plant can get adequate air and sunlight.
There are lots of options regarding plant hangers, these plant hangers are available in numerous materials and size options. There are several decorative hangers as well and if you are a bit crafty you can even make your own DIY plant hanger. The plant hangers presented in this article, are the few of the best plant hangers. I have personally used them to adore my interiors and sustain my love for plants.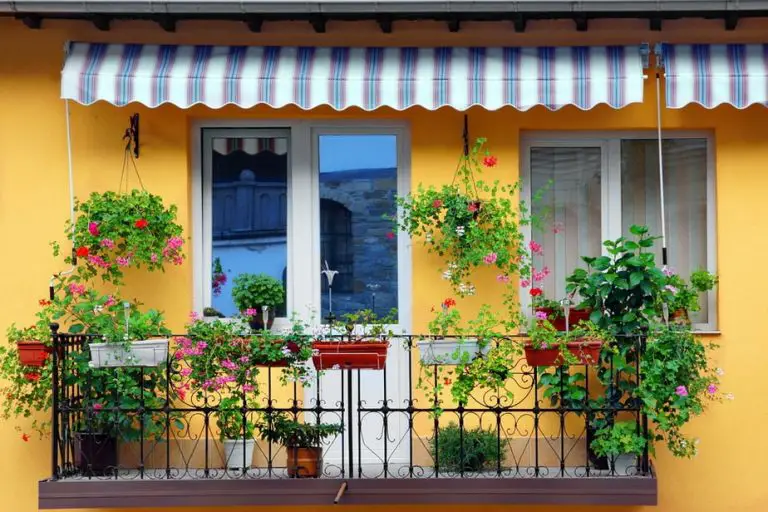 Macrame Plant Hanger By Mkono
When you want to achieve a nice and natural environment for your home. And you have rightly chosen the option of adding plant hangers to save space and to enhance the natural beauty, This macrame hanger by Mokono is one of the ideal options with its perfect adaptability and durability.
No nature lover prefers to keep his plants in any chemical treated environment, no worry this macrame hanger is made up of 100 % cotton cord. This planter hanger is truly a handcrafted piece well made to perfection with sturdy knots and perfect weaves. The design of this macrame hanger is truly vintage and versatile that can suit any interior with utmost elegance.
When it comes to its overall review and consumer satisfaction. It's an all-time favorite of several consumers who added it to their interiors and ended as happy users and rated it with 5 out of 5 ratings. A survey of more than 1200 consumers is evident in its great quality and high aesthetic value.
It is as easy to install as beautiful and attractive. Moreover, If you are thinking of an amazing gift for someone special on any occasion this one is certainly a great choice.
Round Resin Ratten Plant Hangers By Keter
If plants are your true love these plant hangers are your best way to pamper your plants and cherish your love. The idea of placing or installing your plats somewhere a bit above eye level is awesome. And if you selected these round rattan baskets to execute your idea its looks and stays super awesome.
This is a recommended product by no less than 500 consumers who have tested them and referred them perfectly ideal to renovate and extend your indoor garden. These Ratten like baskets are purely perfect to bear weather wear and tear as well. The resin formation makes it sturdy and strong enough to carry and sustain good weight. 
Moreover, their beautiful design makes them a perfect choice to add to our interiors, in your patio or kitchen window or at the home entrance they look awesome. You can select any indoor and outdoor place to install these best plant hangers plus holders and enjoy the beauty, functionality, and durability.
Along with being highly aesthetically pleasing these plant holders are designed and manufactured to provide a good value of money. The basket with dimensions of 13.78 in width and in 13.78 depth is highly appropriate to dwell different kinds of indoor and outdoor plants. And the strong iron chain is cast to perfection and strength to hold the whole setting.
Drainage plug introduced at the bottom of this Round Ratten Basket make a good choice for the plants which are prone to root rot in case of excessive water. This deal includes a pair of round rattan basket hangers, 18-inch high black finished strong chains, and sturdy indoor plant hanger hooks to hold and help to install. 
In short, if you are choosing this deal of spherical plant holders, you just need a plant and some potting soil and you are just ready to go green.
Speckled White Plant Hangers By La Joile Muse
If elegance and simplicity are your mottoes and plant decor is your preference in interiors. Believe me, this flawlessly crafted and perfectly white pair of plant hangers are going to be your final stop. These are so neutral that they can glow any of your interiors without looking odd. You can install them anywhere you want and they will look perfectly serene and ideally coordinate.
They are something that perfectly fits the criteria of beauty and brains. They are amazingly beautiful, ideally modern in design, and still, when it comes to planting care they are top of the list. They are designed with four drainage holes, so no excess water can ruin your ferns, ivy, or spider plants when they in these safe hands. 
The material which has been chosen to craft this beautiful piece to hang your plants is recyclable plastic with some blend of natural stone powder. This combination offers them a beautiful blend of rich looks and low weight. These plant hangers are best and easy to install in any space and far better than any other indoor plant hangers stand.
So when beauty, sustainability, and space-saving is your concern this pair of white delicacies should be your ultimate choice. Another attractive feature associated is freedom, you can install these both indoors and outdoor. They can even be the best choice of indoor plant hangers for windows. So now you can get a solid concrete look with extreme lightweight but again concrete strength is not missing.
This is going to be the safest shopping ever. As this pair of plant hangers are not only weather-resistant and will not betray you in scorching sun or freezing winter. But also the company is ready to endorse his products if you have any complaints or disappointment they own their product. Along with more than 500 consumers, it's our recommended product as well.
Geometric Trigg Indoor Plant Hangers Stand by Umbra
If you are looking for some beauty and warmth installed into your bedroom, living room, or even bathroom wall. Trigg by Umbra is your undeniable choice and it has several reasons to do so. The elegance of its design and perfection of its dimensions is not by chance but they all resulted as well thought design by artist Moe Takemura.
These indoor plant hangers by Umbra can be your ultimate choice when you are looking for a beautiful hanging house for your succulents. Yes, your faux plants & mini cactus can dwell here easily ever after. Moreover can easily alter your lame and blank wall into a beautiful display gallery to show all your plant love.
Material along with the design of this geometric plant hanger is nothing less than awesome, it's ideally lightweight and perfectly adorable. Its made up of concrete resin and ceramic which not only imparts real beauty and love to this beautiful hanger. But makes it a perfect handy material that you will definitely fall in love with.
When you are getting this package to install you will not need anything more than a nail that can hold the set at the wall and that's it!  
You can install them as a single unit or as a pair of two and its perfectly ok with both, with the dimensions of 4.49x 7.24×2.76 inches it always looks stunning. Another beautiful feature is your choice of colors which makes it a more suitable option to add to your interiors. As available in different finishes from silver to copper and even gold for stand and for ceramic container too you have a couple of choices. So check the one that's the best coordinate with your interiors.
Another blissful feature associated with this cute indoor hanger stand is that the manufacturers and we are sure you will love them. But if you have any confusion the manufacturers offer a money-back guarantee within 30 days. Buy it without any hesitation, as a survey of more than 5000 consumers who are recommending it after using it evident of great quality. Definitely you will add into the number!
Set Of 2 Large Hanging PLanters In Weathered Grey by La Julie Mose
If you want to add some bigger plants in your hanging garden this pair of the large hanging planter is definitely for you! 
With dimensions of 13.2 and 6.7, you will definitely not get anything better than these as a house for your relatively bigger plants. Don't get afraid that such big size planter might not be very sustainable for a hanging option. It definitely is a good hanging plant option with its durable lightweight recyclable plastic and stone powder material.
These materials help your planter to manage them both, rich looks and lightweight. Moreover, you can use these planter options both indoor and outdoor. As the material offers no restriction being tough enough to bear it all from the scorching sun to freezing winters.
Designed to perfection keeping in view your interior aesthetics and plant health the color addition also add a bit more drama. It offers a drainage hole on a higher point so that these larger planters can hold some water(but no extra water) for the better health of the lovely life. 
This product is a heart winner as more than 400 consumers are more than happy with there purchase assigning it 4.9 out of 5 ratings.if you are still in any doubts don't worry the manufacturers are not!  They offer full refunds if any consumer has any displeasure. 
Our Selection Criteria
Here when we have presented you with a few of our sorted products I would like to reveal our selection criteria. Here in this article, you will come across five articles and most of them belong to different price ranges. The reason for this versatility is that our prestigious readers have different budget options. So here we have tried our level best to provide all with the ultimate best option within their price and style range.

The second concern was the quality check for that out team didn't rely on assumptions but our team had a keen observation of consumer reviews and personal experiences as well. So, we went through 100 of thousands of reviews presented by the consumers and presented you with only a limited list of five best plant hanger and holder options to make your choice easy still perfect.

So if you have a limited budget and wanna buy a quality product you will definitely find this article fruitful. If budget, not quality is your concern you are still presented with the best option to gab your choice.
Buying Guide To Choose Your Best Plant Hanger
Here we are going to share a buying guide with you that if you want a choose some different options rather than the presented choices. you still don't face any confusion and can make a perfect choice because our reader right buy is our basic concern. You don't need to study rocket science but only go for the following quality checks and you will get the one that suits you the best.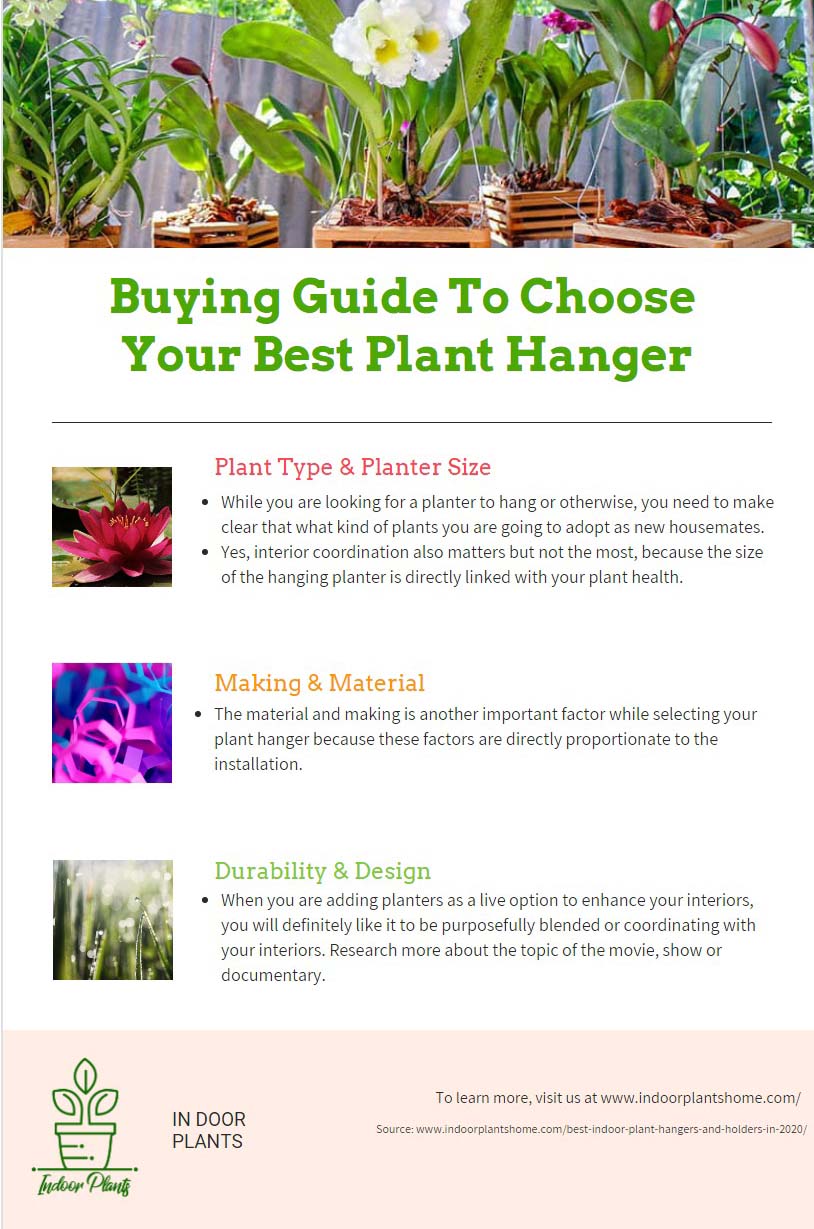 Plant Type & Planter Size
While you are looking for a planter to hang or otherwise, you need to make clear that what kind of plants you are going to adopt as new housemates. Yes, interior coordination also matters but not the most, because the size of the hanging planter is directly linked with your plant health. 
If planter size according to your interiors is priorly done, you still need to check which plant will thrive best in your selected hanging planter. Because a weathered plant will not polish any interiors no matter how beautiful your planter hanger is.
Making & Material
The material and making is another important factor while selecting your plant hanger because these factors are directly proportionate to the installation. You will come across several materials from resin, plastic, ceramics, and even macrame, but you need to check which material will sustain well in which environment. For instance, a macrame hanger can be a perfect choice or best plant hanger for windows. But when it comes to outdoor installations it might don't work well and you better go for resin or recyclable plastic options.
Durability & Design
When you are adding planters as a live option to enhance your interiors, you will definitely like it to be purposefully blended or coordinating with your interiors. For that, you might need to check different designs from vintage to contemporary to select the option that suits you the best. But keep in mind that the market is full of colors, textures and design options so no need to compromise you will definitely get your perfect choice.
I hope this reading will bring a good addition to your existing plant hanger knowledge. Moreover, it will assist you in your choice of the ultimate right plant hanger, that suits your plant and interior both to its best.