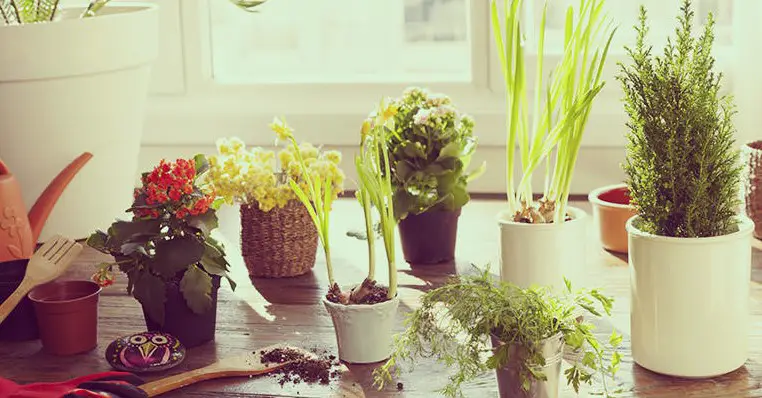 Best Fertilizers For Indoor Plants – Reviews of 2020
It is amazing how many people neglect the importance of using fertilizers for indoor plants. A long-time plant enthusiast knows the importance of keeping their plants fertilized. 
Indoor plants don't enjoy the same luxuries as outdoor plants where the sun, rain, and nature itself takes care of their, and their newly formed roots are left with the limited nutrients provided by the soil in the pot. It is impossible for the plant to survive solely on that.
Best to look at it this way, this is the second stage of potting a plant. When you freshly pot a plant, the soil is loaded with nutrients for the plant to use and it thrives on it. Especially if you buy one of those modern soils that are already enhanced. 
However, with time the nutrients will start getting used up, and since there is no rain or sun to replenish the soil, the nutrients will start becoming deficient. In only a few months the soil would be completely devoid and it will become impossible for the plant to survive and grow.
So naturally, after a couple of months, you would have to replenish it with nutrients through fertilizers.
Now that we have established the need for fertilizers, which fertilizer should you get? Sure you are here to see the reviews, but how will you sort among the types of fertilizers unless you know and understand them? Don't worry, you won't have to.
Types of Fertilizers 
For indoor plant fertilizer DIY adventure, you need to know your fertilizers.
Liquid Fertilizers 
Because there are liquid, they are meant to be given with the water you feed your plant. The waters instructions depend on:
The label: it says whether you have to use it every day you water your plants or alternatively 

The kind of plant: some plants need more doses than the others, for example, the ones that bloom dramatically. It is best to study the nutrient demand of the plant that you are housing.

The season: Some plants go dormant in some seasons and bloom in others. For instance, you might not have to

fertilize indoor plants in winter,

because the plants are dormant or increase the supply when they are blooming
As water is the mode of transportation in the plants, liquid fertilizers reach everywhere nicely.
Slow-Release Fertilizers 
For someone who can't always keep track of the requirement of each plant, slow-release fertilizer is ideal. Slow-release fertilizers actually come in time-release shells. Once the nutrients are released they slowly get absorbed into the soil and replenish it again.
All the release pellets have their own time of absorption, the time duration is usually between 3 and 9 months.
No wonder it is the favorite among gardeners, indoors and even outdoors. And hence it is also comparatively expensive.
Granular Fertilizers
These are granules of absolutely pure fertilizers and meant to be added to the soil with the use of hands. These are more often used for outdoor plants but can also be used for indoor plants.
The only tricky part is that it releases all the nutrients at once as you water the plant and that makes it very hard to have control over the process. And while it is quite cheap, it is not the best choice for indoor plants.
Warning
Make sure to stick to the directions on the label.

Exceeding the limit given can kill the plant 

Over-use of the fertilizers is way worse than the opposite.
Now that we have covered the basics, let's dive into the reviews of the best household plant fertilizer.
7 Best Detail Sanders – Comparison
Best Detail Sanders – Reviews
Do you want to put on some citrus fruits in your own house?
Are you unsure about how much and how to put the fertilizers in? There is no
reason for you gets discouraged just because you are new to gardening.
Imagine if you could get the exact amount measured out for you to use for your indoor plants. Does that sound good for you? If yes then there is an exact product out for you. Try out the Jobe's organic fruit and citrus spikes as fertilizer for indoor plants.
Features
This organic fertilizer is available in spikes which is extremely convenient. To avoid any surface runoff, these are already in measured spikes, just the right amount needed. They are best suited to use for fruits and citrus plants.
This fertilizer is organic, meaning it is biodegradable, renewable, and friendly to the environment. In addition to the nutrients, it also consists of biozome which are microorganisms that help the plant thrive better by enhancing the soil. Improving plant development, and increasing root mass. This helps the plant grow and survive in even the most unfavorable conditions.
Pros:
Already measured

Biodegradable

Environment-friendly
Cons:
An excessive amount can kill the plant
2. 

Dr. Earth Premium Gold
Thinking about finally getting the right fertilizers for your indoor plants? But can't decide what to get? That is why you are here, aren't you?
Is your type of fertilizer the one that is non-toxic in the most literal sense? Something that you can safely use around your pets, babies, and, well, adults? If that is what you are looking for then Dr. Earth Premium Gold has just the right all-purpose fertilizer for you. Go through its features to see whether it really is the one for you.
Features
It comes in different sizes from 4lbs to as much as a 50lbs bundle that can be taken together or as 25lbs packs.
If you want to use it around your little ones or pets, it is highly safe because it has no toxins whatsoever. It is clean of synthetic chemical or manure of GMO infested chicken. It is specially hand-crafted for safe use.
It contains a high amount of macronutrients including carbohydrates, proteins, and fats in addition to humic-acid, multi-minerals and traces. It is put together keeping the environment in mind.
It is the only fertilizer that is non-GMO verified. It is infested with microorganisms that assist the plant in growth and development.
Pros:
  

Biodegradable

Non-GMO project verified

Available in different packs

Safe to use around people and pets

No toxic ingredients

Probiotic that is beneficial for the plant growth
Cons:
The expiry date is not explicitly mentioned.
3. 

Humboldts Secret Base A n B Bundle

For people who are enthusiastic about plants know that they are no less precious than babies. And it is only natural for you to want the best for them. Is that why you are looking for a homemade liquid fertilizer for indoor plants?
Liquid fertilizers are no doubt the best way to transport nutrients to the plants. Good for you if you understand that! Because it means you will also understand why Humboldt's Secret Base is an amazing fit for you. Decide for yourself.
Features
This fertilizer is specially designed to provide nutrition to the plants that are about to gear into their full bloom. This base nutrient system is the perfect blend of all the elements, including potassium, phosphate, magnesium, nitrogen, and fulvic acid, that are needed for the plants when they are about to bloom.
It comes as Base A and B, which need to be combined in order to make the perfect blend for your plant. It contains all the basic nutrients needed by the plant to grow.
The formula is curated carefully to be compatible with all kinds of grow mediums. These are to be used at any time you water your plants.
Pros:
Compatible with all grow medium

All macronutrients

Specially equipped for blooming stage

Safe usage
Cons:
Prices fluctuate in different places
4. 

Salmon Bay Pebbles – Bonsai Tree

Looking for something that will add to the beauty of your interior. Already got a Bonsai tree? What a choice! There is only one thing that can help you enhance the beauty that already is the tree itself – the pebbles!
Oh, is that what you were looking for and not the fish fertilizer for indoor plants, well you are in luck because there is one product that might be just the perfect fit for you. It is the Salmon Bay pebble Tray for your Bonsai tree.
Features
If you are looking for soil from the bottom of the ocean, this is it. Salmon Bay pebbles are the best to use however you have in mind.
You can use them for
–         The bonsai tree that you have indoors
–         The lucky bamboo tree that you really love
–         Your aquarium that homes many fishes who are dear to you
–         In a vase just to add to the décor of the house
These are clean and clear pebbles that will leave you with no room for any kind of complaint whatsoever. They do a great job when it comes to protection and moisture retention.
Pros:
 

Retain moisture in the plant

Protects the plant and soil

Adds beauty to the plant or wherever it is placed
Cons:
 

May be bigger than some customers expect
5. 

Exhale – Home-grown co2
We know that plants need CO2 to function. That is the input of the photosynthetic procedure that is responsible for making food and helping the plant grow and develop.
Imagine if you could get that, save that, and provide it to your plants all the time. Don't believe that can happen? Well, be prepared to be surprised because Exhale now has home-grown CO2 just for your plants.
Features
Plants get CO2 in the morning and oxygen at night, with this fertilizer you can provide your plant with a large amount of supply. Exhale home-grown CO2 is designed to provide small to medium spaces with 6 months' worth of CO2.
It is easier to use than all the fertilizers in the world because you just need to leave it there to do its job. And then it will provide your plant with an unlimited supply of CO2 for up to 6 months.
It is made with a passion for agriculture and innovation and is also way less expensive and safer than most fertilizers for indoor plants.
Pros:
 

Excessive CO2 supply to the plat assisting photosynthesis

Easy to use

Safe for the environment
Cons:
You will find a manual, but the instructions are not as clear as they should be
Up To You Now 
You are now fully educated about the types of fertilizers and what products are available in the market. You are almost an expert, congratulations! Trust yourself and make a decision keeping in mind that there are fertilizers (liquid and slow-release) that are better suited for the indoor plants than others (granular fertilizers)
Make sure that you know your plant's requirements and how well they go with the fertilizer under consideration before you make the decision.
NEVER OVERUSE FERTILIZERS.
You can make the right choice now. Happy Gardening!