There are many indoor plants that are perfect for thriving in a Fairy Garden that require very little maintenance.
Fairy gardens are for everyone. Not only are they a great use of time and a fulfilling project, but they are also an incredible example of what you can do with indoor plants. What miniature plants lack in size, they make up for in beauty.
There are endless options when it comes to fairy garden accessories, templates or styles to emulate with your own. Creativity is the only limit, and many people create elaborate and memorable fairy gardens.
Let's look at the best indoor miniature fairy garden plants that can make a difference in your in the fairy garden.
1.  Houseleek Succulents
Small succulents of any kind are a great option, but Houseleek succulents are perfect for fairy gardens. Also known as Sempervivum, Houseleek succulents are perennial and can be recognized easily by their distinct leaves.
They require a moderate amount of watering and do well in a dry environment. In the wild, they are found in the middle east. Because of how they root and how easily they flourish, they are perfect for fairy gardens.
2. Cherry Tomatoes
If there was ever a perfect edible delight for your fairy garden to produce, it would be the cherry tomato. Cherry tomatoes are not only delicious and nutritious, but they are also easy to grow and require little maintenance.
Be sure to evenly water it two or three times weekly and it will grow to be ripe and ready before you know it. Don't overdo it with planting cherry tomatoes, though, or you might take up too much space in your fairy garden.
3. Boxwoods
Boxwoods are a classic plant. They are easy on the eyes and can easily be shaped and maintained. If you put one Boxwoods plant in your fairy garden, it would be a gorgeous fixture. If you overdo it, it would be too much.
It works great indoors, but if you have large outdoor fairy garden ideas, you could consider planting multiple of them beside each other to get that gorgeous row of Boxwoods to look.
4. Rosita Cactus
Depending on the vibe and climate of your fairy garden, a Rosita cactus may be right at home. Rositas are quite tiny and are known to live rather long lives. Cacti require very little water, even less than a succulent, and because of that, they are easy to take care of.
They add a unique vibe to a fairy garden.
5.  Breckland Thyme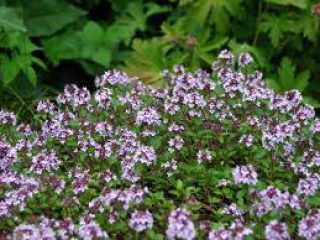 Breckland Thyme is easily recognizable. It is a member of the mint family and has a pleasant aroma. The leaves are very small and soft to the touch.
Caring for any variety of thyme depends largely on the conditions it is surrounded by. Generally, thyme can handle dry climates very well and can go a while without water. Not too long, however, but they only really need to be watered once the soil it is planted in has gone totally dry.
6. Bonsai
Putting Bonsai in your fairy garden creates many opportunities. Depending on how you choose to plant the Bonsai, you could leave plenty of room under it for other mini plants. You could plant some little seedlings that do well in the shade and as the Bonsai grows it will hang over them.
It is also an opportunity to add depth and variety to your fairy garden. You could use the space beneath the Bonsai to place diy fairy garden accessories and add character.
7.  Moss
Don't count out the moss. Moss looks gorgeous as it spread over the soil and other plants in the fairy garden. It can give a more earthy vibe to your indoor fairy garden and makes everything look that much more seamless and natural.
There is a wide variety of types of moss. One that works quite well in fairy gardens is deer moss. A nice patch of deer moss and maybe some stones scattered around it gives it more of a woodland look.
8. Mushrooms
There is a wide variety of mushrooms that would be at home in your fairy garden. Many of them grow indoors quite well. Mushrooms have a unique shape and there are so many options, that you can pick one that would stand out or complement the other plants around it.
9. Primrose
Primrose is normally light yellow in color and they are easily recognizable. They look great in fairy gardens, especially mixed in with other light or colorful flowers. It can grow fairly big depending on the kind of attention it gets, so use some consideration when you are placing it in the garden.
10. Dwarf Mondo Grass
It is thick and green. Dwarf Mondo Grass is dense and has thick leaves. In a fairy garden, it is a great way to contrast against light, colorful plants or beside rocks. It would look great in either woodland typesetting or a rock garden typesetting.
Because of how dark and dense it is, it would also look rather good by some succulents or even a cactus.
Why the Plants You Choose Matters
There is more to it than just choosing plants to fill the space. Indoor fairy gardens are great to look at, but a little bit of tender love and care needs to go into them before they can look so nice.
Before you can even choose indoor plants for your fairy garden, there are a few things to remember:
What kind of fairy garden do you want?
What size container are you going to use?
What is the climate?
Consider those three things. The size of the container that you use limits you as far as how much room you have to work with. Whatever climate you are in or create is limiting as well. Different plants thrive in different conditions.
For example, if you have a small, tight fairy garden with all of your plants close together in a humid environment, you may not want a cactus. For one thing, the humidity may not be good for it, and another thing, it should not take in that much water. If it is a confined space and you are watering plants around the cactus, it is naturally going to absorb some of that.
That is just one example. Placement, climate, and water needs are all important deciding factors. If you have any indoor fairy garden container ideas, consider all of those factors.
Be Creative
Is there a theme to your indoor garden? Maybe you want a desert environment, or maybe something more woodlands. If so, look out for indoor plants that fit in that particular theme. The top 10 that is above has a nice mix but mostly focuses on woodsy indoor plants.
The plants you choose don't all need to thrive in the same exact climate, but it is a good way to create consistency. Either way, there are enough indoor miniature fairy garden plants for you to mix and match something that is your style.
If you have fun ideas but are not sure how to care for a fairy indoor garden, don't worry. It is easy, and once you have an idea of the plants you want, look into what kind of care they require. To make it easy, start small and keep track of how often they need to be watered. It is as simple as could be and the longer you do it, the bolder you will get with your ideas.
Once you have done that, all you that is left to do is:
Choose your accessories
Maintain the garden
Keep it lively
The accessories you choose should complement the plants. Or, vice versa. Once you get some soil in your container and some plants picked out, you will realize that the possibilities are endless. The sky is the limit and there is no reason that you should have to settle for an inferior plant, accessory, or garden as a whole.
Look up examples of what other people are doing with their own fairy gardens for guidance. As far as accessories go, you can never go wrong with fairies, little benches, or earthy little trinkets. A lot of times, the best fairy gardens make clever use of the accessories to accent the plants that surround them.
Anyone Can Do It
Truly, anyone that wants to make a fairy garden of their own can do it. There are more than enough indoor plants perfect for it and it can really liven up indoor space. If you need help looking for indoor fairy garden container ideas, first think about the plants you want.
Once you have an idea of the plants you want, it should be easy to find a container that will give you more than enough space for all of them. A good fairy garden is a sight for sore eyes and can really create a tranquil, fun vibe.
Get the most out of your indoor space by putting in an indoor fairy garden. Choose some plants that will thrive inside and make you happy throughout the day.
1. Provide Support
Your indoor bamboo can't grow on its own. Besides the obvious water, you need proper fertilizer for it to grow. If you are putting your bamboo plant in a vase with water, there are pellets and beads that you can buy that act as fertilizers to keep it thriving longer.
2.  Maintain It
Once it starts growing, you will notice. That means that you have cared for it well. It also means that you are going to have to start to maintain it. You will need to begin trimming the plant as it grows over time. It does not take much effort.
3. Change Things Up
This last one is not entirely necessary, but it can come in handy. Bamboos grow to the light, and they lose shape easily. Reshape the bamboo whenever you can to keep the unique shape it is known for. Rotate it every once in awhile, to make it grow evenly.
Indoor bamboo plants are beautiful, require little attention, and offer numerous health benefits.