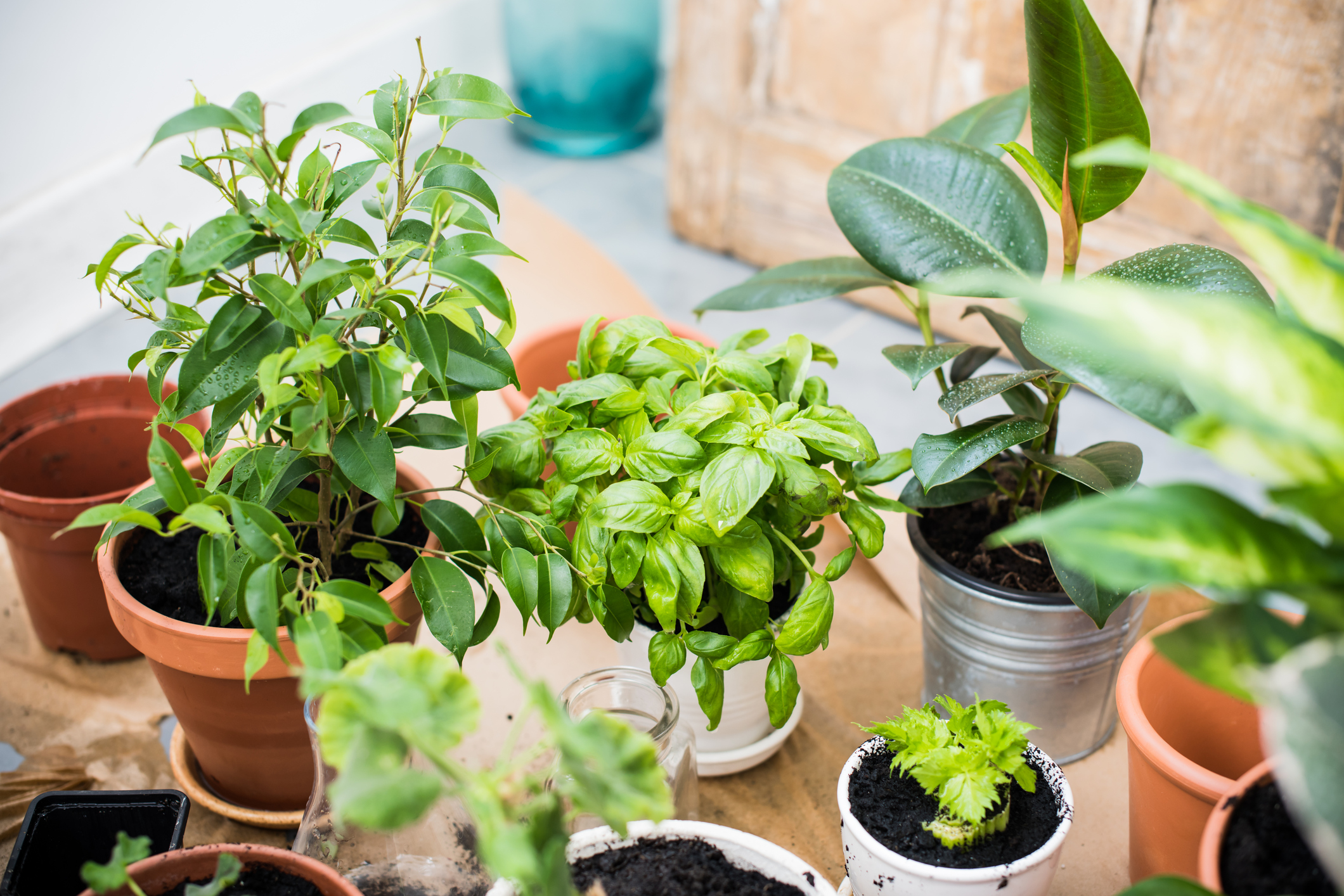 Basic Requirements To Grow Pink Jasmine
For growing this cute feeble species indoor you need to make sure of some arrangements like Light, Water, Soil, and Fertilizers.
J.Polyanthum needs a good amount of sunlight to grow well, unlike many other indoor plants this species can handle direct sunlight.
Pink jasmine or J. Polyanthum needs a continuous and moderate supply of water throughout the year. Make sure that the pot has a drainage supply as well, as excessive water like no water can harm the plant's health too.

This plant needs a vigilant water supply throughout the blooming season

When you are potting the Jasmine plant try to make sure that you use any peat-based or Coir-based potting soil.

They do need fertilizers to grow well and any weak liquid fertilizer can be of good use especially throughout the blooming season.
Pruning And Potting
The best season to home these little pleasures indoors is spring.

As these plants are vining plants, you need to be very vigilant for pruning in the beginning. 

As these vines will grow really fast but don't be over excited and let them grow freely. Because a big plant is not always a healthy plant.

You need to provide them some arch-shaped support because these vines are too delicate to grow without support.

Let the pretty plant twine around the arch-shaped support to get a pretty plant and focal point for your interiors.

Proper pruning helps in the proper growth of a healthy Jasmine. 
Best Tips To Grow Jasmine Well
Some direct sunlight in the summers is a gift to growing indoor jasmine.

And in Winters you need to keep them comparatively drier and a bit moist 

The cooler temperatures in fall are responsible for proper flower-bearing.

If your plant is not bearing flowers properly you need to check, it might miss the fall cool temperatures that stimulate blooms.

In a few people, there are some misconceptions that Jasmine plants can't bear falling temperatures. But they can easily sustain up to 40 degrees Fahrenheit.

If you want your jasmine to grow well and have a happy long-living jasmine wine. You just need to keep them repotted in fresh soil.

When they are growing big you need to keep shifting them in a bigger and adequate size pot.

Like stem pruning, you need to do root pruning, it's important for the longer and healthier life of your little fellow.

Pest infections are very common in Jasmine plants so identifying the pest infection in time is also very important for healthier and long-living plants.
Full Bloomed Jasmine Plant
(By Perfect Plants)
Fall In Love Features
This is an extremely  fragrant breed

Bloomed with heavy flower clusters

Already pruned to bloom well in winters

Mature High Can Go Up to 10-12ft

Mature Width Can Go Up To 4ft

Easy To Shape according to any support 

Can be easy to decor any wall fence or trellises 

Can bloom well in both full or partial sunlight.

Poses beautiful Foliage in lime green color and pinwheel flower clusters
Verdict
This one can be your best buy to satisfy your true Jasmine love, as it will get fully bloomed with scented flowers. Will easily set according to all backgrounds and can grow bigger and broader as you need.
20 Arabian Tea Jasmine Indoor plant
(by Half Sun)
Fall In Love Features
Perfect For Both Common or Potted gardens

20 Seeds For Beautifully Aromatic And Ornamental Plants 

You, Will, Get The Most Auspicious Jasmine, For Flower Tea

These little creatures are always green, which means when not flowering, they are still beautiful.

Its Size Is Too Cute To Resist

Grow Into An Adorable And Decorative Species
Verdict
If you want to grow these Lil creatures this one is a wise investment with little investment you get lots of fun and fragrance. You better put the pots in some half shadowed and ventilated areas so they flourish well and bear fragrant fill flowers.
Jasmine Plant 20 Seed Bag
(by Chokdee Shop)
Fall In Love Features
This seed bags will bring you Bonsai Jasmine trees

These seeds are claimed to be very easy in cultivating

Can be both cultivated both indoor and outdoor in a balcony

Low in cost and good in results

You get 20 seed bags which gives you a good opportunity to grow a lot.
Verdict
This seed bag is a recommended purchase for gardeners and especially jasmine aficionados. With its easy cultivation quality, this purchase is a heart winner, moreover, it will not grow too big to misfit your interiors.
Extremely Fragrant Jasmine Seeds
(by Carolina Seeds & Exotics)
Fall In Love Features
If you want to light up your house with jasmine fragrance go get it.

Can grow in hard circumstances as well.

The plant can go up to 6-8

You need you to grow them in partial sunlight, water, and nice potting soil

This breed blooms in mid-summer

This is  an eco-friendly company that aims to save waste
Verdict
This purchase will bring you home 50 jasmine seeds and help you grow your own jasmine garden.
Tiny Flower Jasmine 25 Seed Bags Indoor/outdoor
Fall In Love Features
One buy will bring you the bulk of seeds to grow

Good for both indoor and outdoor plantation

These jasmine seeds will grow to scented flowers plants

Quite economical to give a chance

Can easily climb up to any support
Verdict
You can go with this economical option, which is good to grow tiny bloomed scented jasmine flowers. But you need to be patient as these seeds bring sprouts and grow to bigger plants. If you need instant results these seeds are not a good idea.
Lattice Shaped Plant Support for Jasmine Vines
(By Seway Garden)
Fall In Love Features
This stand is quite sturdy and strong 

It can suit    all kind of feeble plants which needs support to grow

This stand is made up of Rust Proof Material.

Here this garden climber can easily give support to your jasmine vines.

It has an adequate size to get settled in your interiors.
Verdict 
This is a sturdy piece of an architectural design constructed into a nice entablature that is great support for all your vine-like plants. Definitely your jasmine is also one of the plant types that grow as a wine. You can easily use this stand to shape your plant into this beautiful decorative structure, and it doesn't cost too much either.
It's fun to grow indoor plants, it makes your interior refreshing and interesting and if these plants are some flower breed they make the environment colorful. But if the plant you selected is Jasmine you will be a definite winner, as you will get brilliant refreshment enchanting colors and Wow perfume.
What are Jasmine Indoor Plant Benefits?
When it comes to benefits any plant has several benefits like bringing freshness, warmth, and life. But besides that the jasmine plants have some extra benefits as well like, filling perfume in the entire ambiance when in full bloom, moreover staying green for the whole year. Furthermore, you can mold these little wines to any desired and required shape.
Plz, give some tips for Arabian jasmine indoor plant care?
When you are growing jasmine indoor plants you better use Loan soil type. Choose a Pot that is moist and well-drained.moreover they need plenty of water and good sunlight. The rest care is more or less the same as with other jasmine plants.